British universities are in the midst of a transformation. Higher education institutions are competing, like enterprises in consumer markets, to maintain and increase their positions in world rankings. At UCL, misguided policy encouraging endless expansion prioritises reputation over quality of education. This commercialised mindset perpetuates a cycle of expansion that, if not controlled, can jeopardize the welfare of its staff and students, ironically damaging the very reputation UCL is trying to polish.
The 'International Facilities Arms Race'
In recent years, the government has catalysed the liberalisation of higher education, substituting a welfare-based system for one that more resembles a market. It has fomented this commercialisation through a range of policies: the tripling of tuition fees in 2012, the removal of a cap on student numbers in 2015, and funding cuts to institutions. 
For universities, this top-down endorsement of commercialisation created a vital opportunity. They could now begin to compete more substantially in the so-called "international facilities arms race" that sees global institutions battling to rank higher than each other. Indeed, the international relevance of British universities has long been challenged by the nascent threat of cash-flush Asian institutions and the waning allure of age-based prestige. Thus, with greater tuition costs per pupil and the ability to enroll more fee-payers overall, universities subscribed to a business model of increasing revenue and investing it in facilities that would maintain their relevance on the international market. Much of this scramble to expand has focused on overseas fee-payers, who sometimes cough up more than three times the tuition of their counterparts. 
The graph below reflects universities' recent trend of student body expansion, comparing the change in enrollment from 2014 to 2019 among the largest institutions in the UK.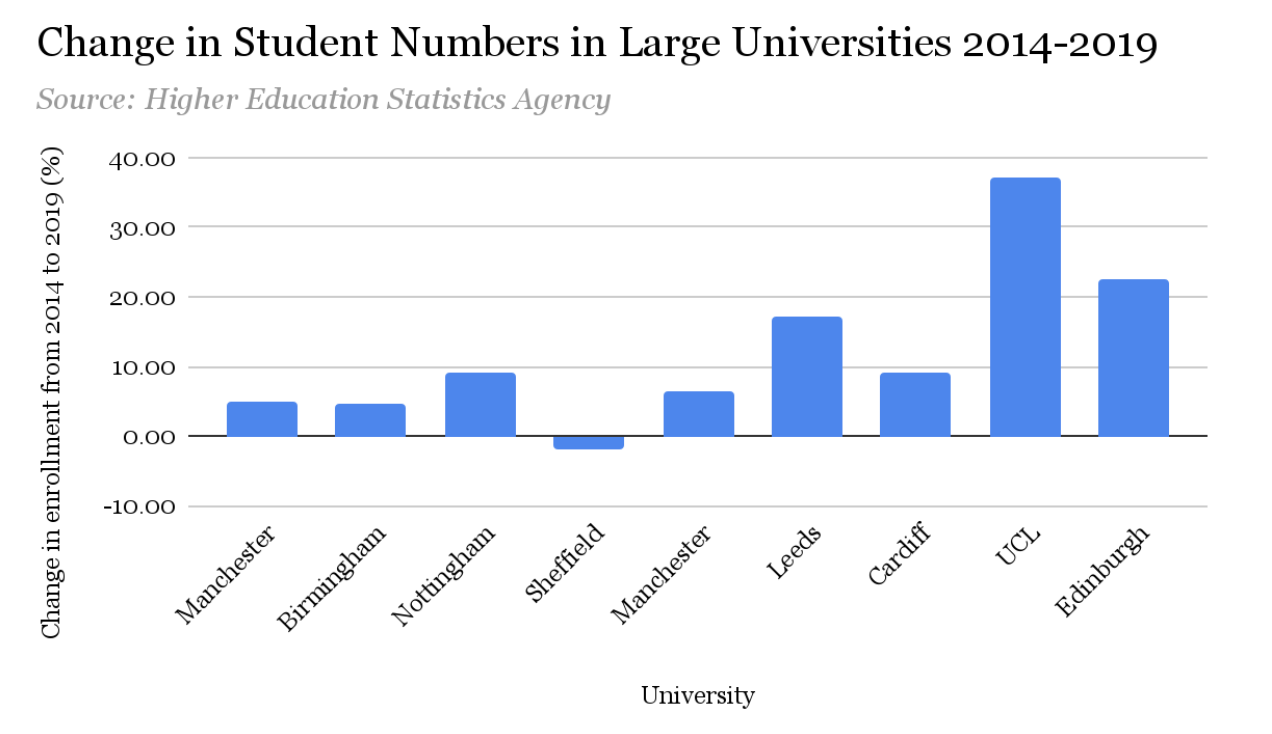 UCL's Expansion
While growth was the overwhelming trend observed above, UCL displayed the most remarkable increase in student enrollment of nearly 40%. Indeed, from 2010 to 2020, the number of full time students at UCL nearly doubled, growing by a staggering 20,500. The most recent available figures count UCL's enrollment at almost 44,000, making it the highest in the UK after the Open University, an online institution. 
In a recent interview with the Guardian, the new Provost, Michael Spence, explained UCL's expansion. He claimed that "there is no course at UCL where the undergraduate fee covers the cost of providing the course… So we're already supporting the education of British undergraduates with both international student and postgraduate student fees." Thus, according to Spence, the increased enrolment of high fee payers is used to fund UCL courses.
Indeed, it is true that overseas tuition is far more lucrative than home fees; in the academic year of 2019 to 2020, it constituted 23% of UCL's revenue while the income from the more numerous UK and EU students was just over half that share. 
Spence also stated in an interview with The Cheese Grater earlier this year that "we don't have a big endowment, so we are a university which is, in large part, funded by student fees." The Provost thus appears to indicate that UCL's dependence on enrolment as a revenue source is due to the limited size of its endowment. 
However, the reason for UCL's tuition-based funding model appears to be more circuitous; its participation in the 'international facilities arms race' and subsequent commercialisation emerge as the culprits. 
UCL's endowment has indeed slendered in recent years: government funding for universities has waned in the past decade, with per pupil provisions falling by 5% between 2012 and 2019. Yet, in the same period, according to its financial statements, UCL's revenue per student dropped by a considerably greater 15%. 
The gargantuan expansion of the student body has watered down income per pupil from non-fee sources. Indeed, revenue per student from the next largest income categories, research grants and funding body grants, dropped by 23% and 48%, respectively, from 2012 to 2019. Quite simply, with twice as many students, there is far less to go around.
Furthermore, exorbitant facilities expansion, a key characteristic of commercialised higher education, has prevailed at UCL. In 2016, it took out a loan of £280m, the largest in British university history, to finance a £1.25bn infrastructure project – the biggest since UCL's birth. In addition to borrowing, the university planned to use philanthropic donations and reserves to pay for its new facilities. This included provisions for the new Student Centre as well as the flashy new campus: UCL East. 
Financially, the project appears manageable – the university is fortunate enough to be the recipient of the benevolence of banks who seem to align with its commercialised vision for UCL. Indeed, the university's overall financial position is not concerning as its assets – think giant buildings in the centre of London – far outweigh its liabilities. 
However, on top of the original loan, UCL issued £300 million of  bonds in June of this year, further entrenching its debts. While the reason for this fundraising was not specified, it reflects a cash-thirst that may explain inadequate funding in many sectors across UCL. For example, the amount UCL spends on Academic Departments per pupil has notably decreased by 23.6% from 2012 to 2019 (after adjusting for inflation). 
Interestingly, according to a former professor at UCL, departments are directly responsible for setting admissions targets.  He explained that departments' "expenses rise constantly because of inflation, while home fees have remained the same for years. And… well, it is possible that they have been trying to gain more money through international students. Yes, I think that may well be the case."
Thus, the per capita cuts that have hit departments, largely due to the expansion of both enrollment and facilities, appears to have further stimulated the intake of new students, prompting the construction of new buildings to accommodate them and thus initiating a self-perpetuating cycle. While overseas fees may now be necessary to pay for undergraduate courses, this appears to be a result of UCL's prioritisation of its international reputation over the day-to-day operations of its departments. 
Impact on Students
Beyond departments, key student services have been hit by UCL's commercial emphasis on reputation. 
This fiscal strain is evident in per-capita funding cuts for many sectors at the university. In the period from 2012-2019 – using available data and excluding 2020 due to Covid – real spending per capita fell for residences and catering, premises, and academic services.  While overall spending rose, the growing number of students has meant resources are more sparsely distributed. It should be noted that in the same period, the Provost's pay has increased by over 5% and funding for the Administration and Central Services has increased by 27.2%.
Today, multiple pupils in UCL's community have expressed a feeling of neglect by their university.
One overseas student, who is paying £28,500 annually, told The Cheese Grater, "with the fees I'm paying, I feel like I'm only attending lectures and receiving assignments with no other support or guidance."
Laura Maurin, a Law student, expressed similar sentiment to several others about the online learning that dominated last year's instruction, "[it] was basically self taught – watching videos at home and learning about law by reading books with no academic support or help whilst still getting marked extremely harshly on exams was not worth £9250". 
For some, the struggles of online learning have permeated into this academic year. One student said, "Classes were advertised as being blended learning, but some of my modules are entirely online, and the vast majority of teaching is online. Class sizes have almost doubled since last year in some classes. The inflation of class size and false advertisement of courses give the impression that the university has messed up majorly, or is just prioritising profit at the expense of its students' quality of education and wellbeing."
Evidently, the growing number of students is straining both resources and the attention given to individuals. 
Furthermore, welfare complaints about the waiting time for mental health support and poor disability measures (see Voices) seem to abound. 
While many students voice criticisms of the university, not all have grievances. Joel Mitchell, a second year Medical student, praised "easy access to teaching, pastoral and social support" and felt that the "amount of time spent by staff on tailoring to each individual student is visible." 
Although not all students are dissatisfied, there are clear patterns of common grievances related to a lack of academic and welfare support, the challenges of online learning, growing class sizes, and general disorganization.  It is no wonder many students question why they pay £9,250 for tuition, let alone the astonishing £28,500 fees for some overseas pupils. Furthermore, UCL's apparent reliance on students' tuition to maintain its reputation but fails to provide them with adequate services should cause outrage.
Staff Concerns
While some students blame teaching staff for their academic frustrations, they too appear to be victims of UCL's commercialisation. The per-capita cuts to departments and academic services seem to have had far-reaching effects. 
Dr. Allen Abramson, a senior lecturer at the Department of Anthropology, felt that the changes at UCL have created additional pressure for staff. 
"I feel that the transformation of students into a body of paying consumers has fuelled understandable pressure to deliver and administer teaching to the highest standards, but at the same time as having to pursue contractual research commitments."
The detrimental effects of UCL's commercialisation also appear to take a toll on staff welfare. Richard Pettinger of the School of Management, complained of the congestion and overcrowding caused by the drastic increase in students. 
"We do not have proper working conditions, or social conditions. Before the covid crisis, we were all being packed as tightly as possible into the facilities at Bloomsbury. The rooms in many cases were inadequate for effective teaching and learning, and the crowding of facilities such as the coffee bars, sandwich bar, social spaces and open spaces was becoming a very serious problem." 
Consequently, he welcomed new facilities such as UCL East as a much needed reprieve from the congestion in Bloomsbury, and encouraged more long-term investment across the whole of the UCL estate. It seems that, ironically, further commercialisation and facilities expansion has become a necessity to cope with the strains of student intake. The cycle of growth and commercialisation thus appears bound to continue.
However, a university spokesperson decidedly disagrees. In response to the article, they said: "UCL is currently in the process of listening to its diverse community of students, staff, alumni and partners, who have all been asked to help shape our vision, mission, values, and priorities by feeding into the UCL strategic plan 2022-27 consultation. Launched on Monday 1 November, the public consultation includes topics such as UCL's size and shape, as well as education priorities and programmes and opportunities for targeted investment." 
UCL's "consultation" will undoubtedly constitute a test of the university's flexibility and willingness to evolve past the current trend of commercialisation. However, it may come too late as many staff are considering strike action, stirred by the detrimental effects of UCL's reckless expansion on working conditions, (see page 2 for in-depth coverage). 
Rankings
So, has commercialisation paid off for the university on a superficial basis – have its rankings reflected the costly investment in its brand at the expense of staff and students? In 2012, the year the government tripled tuition fees, UCL ranked 17th in the Times Higher Education world rankings. Almost ten years later, with tens of thousands of new students and hundreds of millions of pounds invested in new facilities, it stands at 18th.  In rankings from other bodies, the story is the same. In 2012, QS World Rankings put UCL in fourth place while the latest rankings see it in eighth position. 
One could blame the competitive international environment for this failure to rise the rankings. Perhaps, all of UCL's investment has been necessary for it to merely stay anchored against the turbulent tides of foreign institutions. Yet, even domestically, today it remains at the same fourth place position as in 2012 in the Times Higher Education rankings. Further, UCL's position in the Guardian's chart of UK universities has fallen from fifth to ninth in the same period. 
Conclusion
Empowered by the corporatising policies of the Conservative government, UCL, along with other UK universities, saw an opportunity to cement its reputation worldwide. By chasing rankings through exorbitant facilities development, funded by exceptionally high enrolment and bank loans, the university unwittingly entered a self-destructive cycle of endless expansion. Not only did its costly investments dampen funding for other sectors, but the resulting financial woes of academic departments forced them to take in more students to stay afloat. Ironically, fresh fees neither sufficiently funded the university nor improved UCL's rank. Instead, the policy of endless growth resulted in the university sleepwalking into a race to the bottom; caught up in the superficialities of international prestige, UCL blindly allowed staff and students to suffer. Now, it appears that the very root of the problem will be seen as the solution to the current crisis, as new facilities are required to house UCL's expansive population and more overseas fee-payers are touted as a financial panacea for departments. Ultimately, it appears that commercialisation, initiated by the government but perpetuated by UCL, is king.