For background on this story, see CG34 (March 2012) and the September 2012 Welcome Issue.
Warren Lubin, chair of the Carpenters' Residents Steering Committee, and Tony Bird, their independent advisor, unexpectedly turned up UCL today. When they were spotted walking around UCL they told this magazine that they'd tried to meet the Provost, Malcolm Grant, but had been turned away by his secretary. They complained that they'd been attempting to contact Grant since late September, with no response.
Bird produced a letter (see below) that he and Lubin had written to all the members of UCL Council on behalf of Carpenters residents, which was, according to them, handed to Tim Perry's office in the UCL Registry on the 28th September under the assurance, from that office, that it would be expedited to Council members the same day.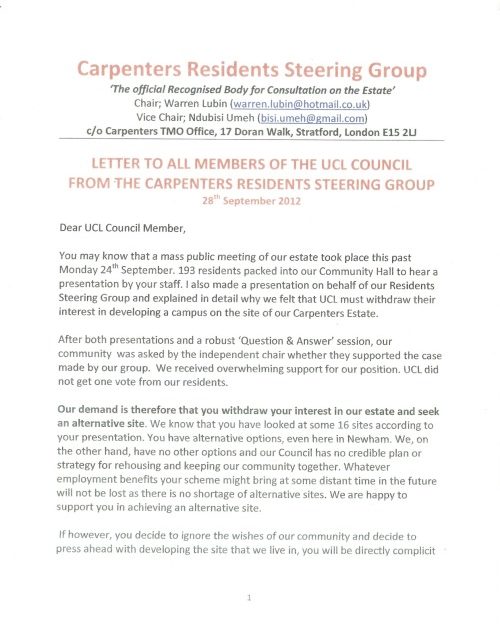 When this magazine showed the letter to the two UCLU sabbatical officers on UCL Council, Edwin Clifford Coupe and Natasha Gorodnitski, they commented that they had recieved it only this morning – eleven days later! – through UCL's internal post. A UCL council meeting was held last Monday (1st October), which had UCL's proposed Newham campus on the agenda. Presumably other Council members had not recieved this document by that date either. Why Perry's office and UCL's internal post took so long to deliver the document to Council is a question which is yet to be answered.
Oscar Webb
Photo credit: Oscar Webb